Make Money Blogging – Top 5 Get Paid To Blog Post Ad Networks
Blogging is a good way to make money online. But for the majority of bloggers, they don't make enough money, get discouraged, and then quit. Believe me, I've been there, and I've got a graveyard full of dead blogs of my own.
So besides making money by using google Adsense and posting affiliate links on your blog; there is another awesome way to make money, and that is with sponsored blog posts.
This is actually a WIN/WIN way to make money blogging. It's good for advertisers and good for bloggers.
Here's why. Take my blog for instance, HowToWebmaster.com, I'm constantly writing about internet marketing, ad networks, SEO, tools, and reviewing different products and services. Why not get paid for these blog posts!?
Plus, I'm always looking for new content anyways such as writing about a new ad networks, new marketing tools, or IM products.
So for example, a new PPC network emerges, and they need someone to write a review about their company. They then decide to buy a sponsored post on my blog for… say $50.
I would write the blog post reviewing their new PPC network, and then get paid $50.
Now I get new content for my blog and I get $50 for writing it. Did I not mention this is a WIN/WIN  or what!!
I'm not saying to filled your entire blog with sponsored posts, but it's surely a great way to make extra money for doing something you've already been doing.
Here's my Top 5 Get Paid to Post Ad Networks or Sponsored Blog Posts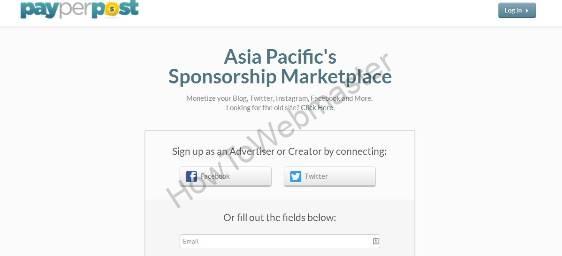 So how these sponsor blog network work is that you sign up. Then add your blog to your account, set a price per blog post ($5-$200+), and wait for approval. Then when an advertiser selects your blog for a sponsored post, you'll get a notification about it by email and in your account. Next, you would then write the sponsored post, and get paid!
It's that simple!
If you have a blog with a good pagerank and traffic (Alexa rankings), you can command a higher pay for a blog post.
Thanks for reading. Leave a comment.