Description
I've been testing out contact creation tools for over 10+ years. Watch me test out and review the newest WordAi version on video.
With my new WordAi review, I'll give this article spinning tool a rating of 4.18 out of 5 stars. I am very impressed with the new Wordai article spinning power. The articles generated are the best I have ever seen! Very good readability with very high uniqueness level.
Try WordAi and test the quality of this article spinning tool for yourself… Sign Up to WordAi for 3 Days for Free, Click here!
See my full rating criteria below.
WordAi Review: Article Readability (4.7 / 5 rating)
Article Uniqueness (4.7 / 5 rating)

I used WordAi to spin articles on 3 different settings: conservative, regular, and adventurous.
You can judge for yourself the readability/uniqueness of the articles generated by WordAi by viewing the rewritten articles generated here: Example Articles
WordAi Review: Ease of Use (5 / 5 rating)
Like before, I like the simple user interface of WordAi. It actually gotten even easier to use then before! There is not a whole lot of buttons, features, options, and tabs. It is user-friendly and easy to get started in generating unique articles.  You can just paste in an article, select quality settings, and then 1-click to spin now and rewrite your articles.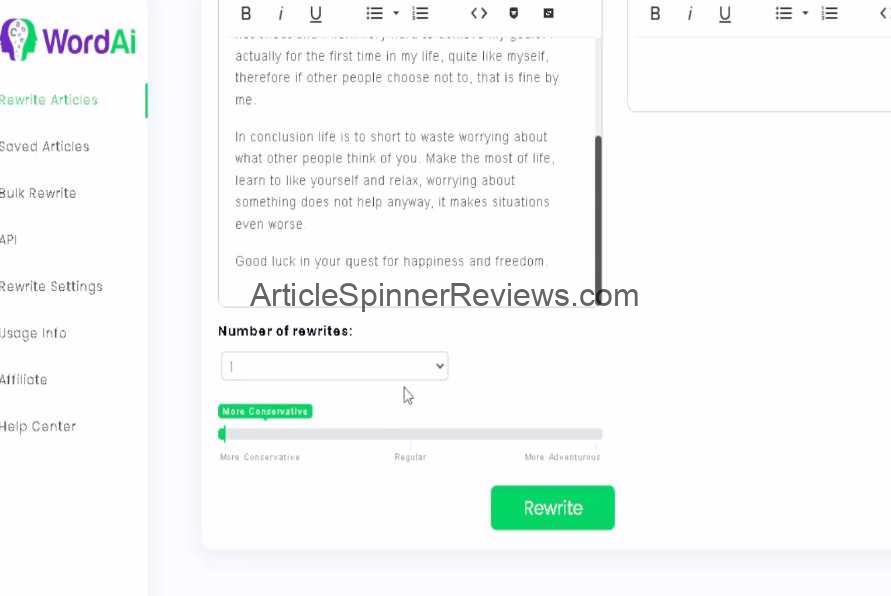 This tool is 100% web-based, there is nothing to download or install. So, this works on all operating systems and can be accessed from anywhere with an internet connection. You never have to worry about software updates, because all customers have access to updated versions as long as you remain a customer.
WordAi Review: Program Integrations (5 / 5 rating)
WordAi is vastly integrated into many of the top internet marketing tools. If you use any autoblogging, SEO, link building, or any tools that have article spinning; then WordAi is probably integrated into it.
WordAi Review: Price (1.5 / 5 rating)
The WordAi price is $57/month. This tool is quite EXPENSIVE.
WordAi Review: Final Verdict
Wordai is the best article spinner even when compared with Spin Rewriter and TheBestSpinner. However, it is just too darn expensive! If you got the money, Wordai is the best article spinner right now. If you don't have the money, I suggest  TheBestSpinner. Don't take my word for it, try WordAi out for 3 days Free, and see the results for yourself!