GetResponse Live Case Study – How to A/B Split-Test Email Marketing Newsletter
This is a pretty cool live case study of me using the GetResponse A/B split-test when sending out a newsletter to my subscribers. 
I'll be split testing 5 subject lines, then have getresponse automatically email the rest of my subscribers based on the winning subject line with the most open rate. The newsletter message is about this very case study you are reading right now. In the email, you will click on the link to this post.
Here are the 5 subject lines:
How to A/B Split Test When Sending to Your Email List

Leon's Case Study – How to A/B Split Test When Sending to Your Email List

June 1 – How to A/B Split Test When Sending to Your Email List

Are you Using A/B Split Test For Email Marketing?

Here's how to easily run an A/B split test with GetResponse
Here's how to create a GetResponse A/B Split Test.
When you create a new newsletter, make sure to check turn on click-through and A/B test. 
After that, write your email message. Make sure you use HTML rather than sending a plain text email message.
Then GetResponse will ask you to select which A/B Split test you want to use. You can only choose one of the following: subject lines, from field, email content, or delivery time. 
I always choose to split test only the subject lines.
Finally you will select which subscriber lists you want to send to and then make some last A/B split test configuration.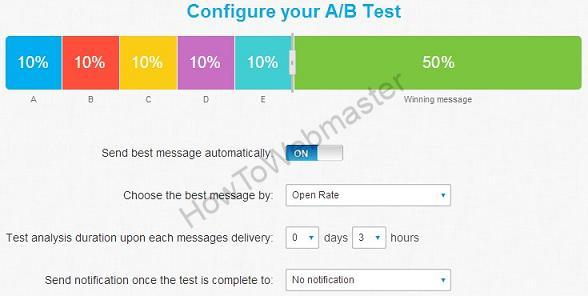 I normally turn on the "send best message automatically", this way I don't have to manually log into GetResponse, view my split test, and then click the send button.
Choose the best message by, you can either use open rate or click-through rate. I like to use open rate. Which means that the best subject line that most subscribers click to open the email message, will be the winning subject line.
Test analysis duration upon each messages delivery. I normally leave this at 3 hours. So this means that after 3 hours, the split test will be completed and the winning subject line will be used to send to the rest of my subscribers.
So the each of the 5 subject lines will be sent to 10% of my subscribers list. So this means that 50% of my subscribers will receive emails with the 5 subject lines. After 3 hours, the remaining 50% will automatically be sent the email with the winning subject line. You can also choose the % of subscribers to receive the winning emails as well such as 60%, 30%, or whatever.
After 24 hours, the results of the split test will look something like this below: (I will update this with the real results once this campaign is completed)
For those not using GetResponse, I highly recommend this email marketing service.
Click here to get your 30 days GetResponse free trial
Leave a comment if you have any questions regarding the GetResponse A/b Split test.